About Us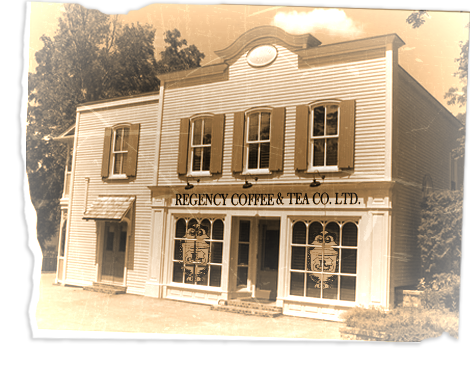 Regency has bean raising the bar since 1985!
Regency Coffee has grown over the past three decades to become the proud provider of excellence in coffee service for corporations, golf clubs and restaurants throughout the GTA. Inspired by the simplicity of plantations in Costa Rica, we decided to bring the industry back to the basics of good fresh, pure and natural coffee.
Customer service is the key to our success. We concentrate on obtaining the finest coffee beans from around the world and roasting them to perfection in our own facilities. Coffee is always fresh as it is roasted in small batches and delivered the next day. Additional products include dairy, snacks, soft drinks, teas, paper products and water cooler systems. All products are carefully selected for quality and freshness. Clients may choose from a variety of delivery options ranging from a simple phone order to a totally hands-free replenishment service. (We take care of everything for you.)
Regency Coffee has mastered the fine art of coffee roasting and we look forward to sharing the wonderful results with you.
Our History
In 1985, Regency rose from the owls nest as a fledgling. Now today over 30 years later, they are the very wise old owls in the coffee industry. We have a unique, state of the art micro custom coffee roaster. Therefore Regency Coffee provides the very best coffees to prestigious clubs, restaurants and corporate offices in Toronto and the GTA. We are still passionate about being environmentally responsible and have service beyond expectation.
A Mother and Son team navigated their way through a large group of competitors side by side to compete in the world of coffee. Both felt the industry was lacking in quality of coffee and good old fashioned service. They turned the industry upside down when they found themselves roasting their own coffees fresh and free of all additives and preservatives. Still to this day we pride ourselves on whole bean coffees and providing over 1500 allied products and a wide variety of services for office coffee, restaurants and for everyone that seeks out the finest brew.
Read More
We at Regency from the very beginning have prided ourselves on giving our customers the most flavourful and robust cup of coffee. With the finest whole beans from around the world, we slow roast daily so our customers can enjoy the ultimate cup of coffee.
For over 30 years, Regency has specialized in purchasing the finest beans from the world. With our facility in Pickering products are roasted daily using traditional methods. Each type of bean is dry roasted separately in small batch roasters. Regency prides its self on our in house standards, but it also is committed to educating and training their clients and staff on our own products. When our office coffee and restaurants receive our product they know that this product has bean hand crafted and freshly roasted just for them.
"We have witnessed a tremendous growth in our business because Toronto and the GTA people are thirsty for great coffee and for information on how to enjoy it to the fullest" says Mr. Keffer President of Regency Coffee.
As Toronto's leading speciality coffee roaster that is a major force in the industry we recognize that people who are interested in drinking the finest coffee are connoisseurs who demand information about all aspects of coffee ranging from the source of coffee beans, to roasting, to preparation and packaging environmentally responsible. Regency Coffee claims high standards and special training give it an edge in the coffee industry.
At Regency Coffee the strategy also includes buying some of the world's finest and most exclusive coffee beans. As a result, Mr. Keffer has established relationships with top coffee growers and traders around the world. Product offering consist of more than 48 coffees, including a number of exclusive blends, estate coffees such as Regency's French Roast, Mocha Java, Java Estate and Costa Rica. Mr. Keffer personally cups each coffee at least 3 to 4 times before giving his approval. These high standards are unheard of in the industry today. The end result is the freshest, purest coffee you have ever experience!!!!!!
We believe that attention to detail is very important that is one of the reasons why Regency keeps raising the bar. You can not only have a great cup of coffee, you also need the service to also stand behind it. Paying attention to detail is also a must in the coffee service. Knowing your customers' needs and being able to change or flex with your clients as their needs change. Our clients all have customized deliveries or service that suit their company's needs, from call in ordering to complete hands free coffee services, we do it all. We are one stop shopping for your office, golf course or restaurant. We carry products from milk and sugar to paper towels, snacks and dish washing detergents. We also do gift baskets for staff members or clients to fruit baskets for a luncheon. We at Regency believe in being different and unique from the others, this is what makes us stand out. It seems that other competitors are busy trying to sell other peoples product that they have forgotten how important service and quality really is. We still believe in environmentally responsible products for example our Earth First packaging. Our coffee packaging is made from 40% recycled natural kraft paper, 25% post-consumer and lined with an Earth First compostable liner. The liner is made from annually renewable plant. So you not only put your coffee filter with grinds in your green bin compost but the bag your coffee is packaged in also. This is putting less into our landfill sites.
Regency is aware that acidity is not a word that stands out when we think of our favorite beverage. However, whether it's a good cup or not such a good cup, acidity can most definitely be a double edged sword. This does not make the coffee neither better nor worse due only to the presence of lack of acidity. Most of the time acidity will have a positive result on the cup quality. Sometimes acidity can lead to an undrinkable cup of Joe. These complex aspects of coffee and its acidity is what led Regency to switch to a very unique process in which we named Multiable-stage-roasting.
This process, which is unique only to Regency, has allowed us to produce the world's most flavourful and full bodied coffee with a delicious smooth finish. We realize that this beverage is not only the one that gives us the kick start every morning, it is very much the intricate balance of aroma and taste, we all love, savour and continue to learn about. In fact coffee is the most complex food product in the entire world. Each step for the different altitudes, varieties, growing conditions, right down to processing, blending, roasting, grinding, brewing, water temperatures, water flow and the amount of product affects that little black drink you hold in your hand every morning, noon and night.
Our core philosophy at Regency Coffee is the constant pursuit of perfecton. Each coffee of origin used in our blends is very carefully chosen for its individual flavour characteristic and sourced out from the entire Wolds coffee plantations. There is absolutely no compromise in our pursuit of perfect diversified flavour. We will always stay focused on quality rather than quantity and wonderful flavour over cost. Based on these strong principles we remain the very wise owls in this high demand industry with the perfect combination of the purest high quality coffee service that has to be experienced to believe and the ultimate in brewing equipment. We also do an extremely high end espresso that rivals the worlds finest. This unique process leaves you with a deep, rich and full of smooth pure coffee flavour. Espresso is many coffee experts preferred brew. Most of the espressos brewing methods are in electric machine, espresso is compacted six to seven grams dose of dark roasted or light coffee very finely ground through a very high pressurized hot water to approximately 93 to 94 degrees Celsius forced through a very small spray head in about 15 to 20 seconds. Regency blends there espresso to produce these finest and smoothest cup of espresso you will ever experience with an incredible natural crema.
Regency is a firm believer in supporting other local businesses; this is why most of our clients and suppliers are in the Toronto and GTA area.
Enjoy superior service and product with Regency Coffee. Let us pamper you with a coffee service that anticipates and satisfies your every need.
We look forward to sharing the wonderful results with you!
Tasting is believing so…give us a try.
Contact us for a free demonstration 905-294-4178 or info@regencycoffee.ca